Level 4 Yoga (75-90mins)
Our most advanced yoga class.
Your teacher will guide and support you into more advanced yoga poses including head stands and balancing poses.
With Yogic breathing and relaxation at the end of the class so that you leave feeling revived.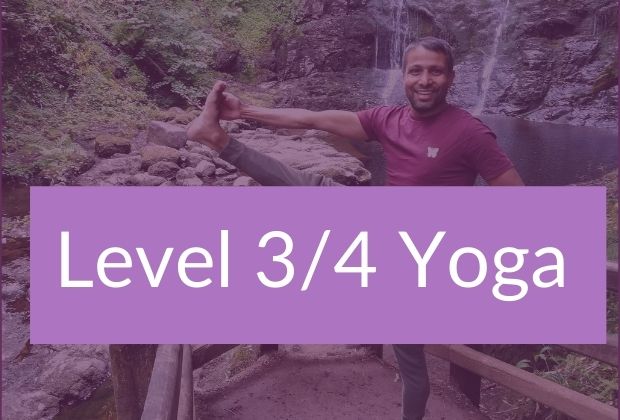 Level 4 Yoga Classes – A Yoga Workout
Level 3/4 :
Monday at 6.50pm – 8.05pm
Tuesday at 6.50pm – 8.05pm
Tuesday at 8.20pm – 9.35pm
Wednesday at 6.50pm – 8.05pm
Thursday at 6.50pm – 8.05pm
*You will need to have attended at least 6 months of regular yoga classes to do this level.
Each class is 75 minutes.
Mats are provided.
*not suitable during pregnancy
…………………………………………………………………………..
NEW OFFER – 4 class pass £39*
£11 online/ £12 drop in
or £75 – 8 weeks – book here
…………………………………………………………………………..
*can be used with any intermediate class
*6 weeks to use the 4 classes from the 1st class
Please text Keshav on 07790355546 to check that we have space and to reserve your place or email jennifer@namasteyogacentre.co.uk
The 6.45pm classes are particularly busy, so please text ahead to book your place
You can pay the £39 at the door but it is best to prepay here….
…………………………………………………………………………..
This 90 mins Yoga class is a workout. You will need to be quite fit to do this class.
…………………………………………………………………………..
We are passionate about You learning Yoga and we care that you progress week on week.
We craft our classes to fulfil Your potential in Your Yoga Practice.
You have probably been doing Yoga for quite some time and are looking to Learn and Progress more in your practice.
This is what we specialise in.
You will receive individual attention and our instructors will guide you personally into the next level of each posture as you are ready. Week on week, class upon class. So that your own personal knowledge, skill and level of self awareness in the posture improves each time.
Keshav Rupakheti is the absolute yoga king! I've been to yoga classes in Cambridge, London, Madrid… and none of them have been a patch on Keshav's.
Not only is he an exceptionally gifted yogi, his calm and patient nature, accompanied by his sharp sense of humour and positive outlook make the class highly enjoyable and rewarding, as it is both stimulating and challenging.
I have been going to his classes for 10 years now and hope to attend them for many more to come!
Molly
…………………………………………………
Keshav Rupakheti teaches the Intermediate Yoga Classes.
If you are unsure which class is for you, feel free to chat to Keshav or Jennifer, they will find the right class for you.
New to Namaste Yoga Centre? Here's what to expect
Book Online
Book a yoga class through our schedule and online booking system.
Book your place
ONLINE – Sept 2021-Yoga for Kids Teacher Training with Yoga&Kids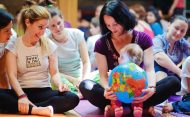 Time: Friday 2-5pm, Saturday 12-3pm, Sunday 12-3pm
Price: £260
3 - day course, mainly practical with some theory, in which you will experience how to be a kid again and connect with your inner child
Hear about our New classes and Events. Sign up for our Newsletter