Express Yoga (45mins)
Suitable for Beginners. A yoga class to increase fitness and build strength with a short guided relaxation at the end.
Express Yoga Classes:
ONLINE (at the moment)
JUST £5.30 – Stream on VIMEO – https://vimeo.com/ondemand/namasteyoga
A Yoga class with a different focus each time to build strength:
Legs and bum
Core strength
Arms/Upper body
This class is suitable for all levels including Beginners. However, if you are inured or new to exercise , then the Absolute Beginners may suit you better.
Keshav Rupakheti teaches this Class.
…………………………………………………………………………
*not suitable during pregnancy
If you are unsure which class is for you, feel free to chat to Keshav or Jennifer 07966912953, they will find the right class for you.
Book Online
Book a yoga class through our schedule and online booking system.
Book your place
Sept 2022 – Yoga for Kids Teacher Training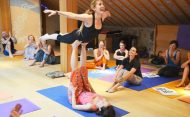 Time: Fri 1-5pm, Sat 9am-6pm, Sun 9am-4pm
Price: £430 Early Rate
In person Yoga for Kids Teacher Training
Hear about our New classes and Events. Sign up for our Newsletter