Welcome to Namaste Yoga Centre, we have been providing quality yoga classes in Belfast City since 2003.
Our Centre is a calm and quiet space. We have created it that way so You have a place to retreat to. Just for that 1 hour a week.
…………………………………………………………………………….
Summer Yoga 8 week session starts 03 June 2019 – Book here
…………………………………………………………………………….
We teach Classic Yoga in a Dynamic style.
Our classes are a workout.
Did you know that Yoga postures have a progression of difficulty?
Easier versions that are suitable for those who are injured or restricted in their movements.
Standard versions that most people can do.
Advanced versions for those who are quite flexible and have strong core strength and a good fitness level.
We can bring you through all these levels.
This is why we have levels of Yoga classes.
Each class is designed around the level of difficulty and Yoga knowledge.
Pick the class which best suits where you are NOW:
Injured or new to exercise – 60 mins
Reasonably fit and healthy and ready to learn yoga – 60 mins
Been doing Yoga regularly for at least 6 months – ready to go beyond Beginners and learn more challenging postures – 75 mins
Been doing Yoga regularly for at least 6 months – Our most challenging class – A Full Body Workout – 90 mins
Move up levels as you learn and your fitness, knowledge and strength improves.
Other levels :
A fast paced class with a different focus each time: Legs and bum, Core strength, Arms/Upper body and Hips!
……………………………………………………………………………………….
Check out Book Classes for class times and to book a class online.
……………………………………………………………………………………….
Learn more about our fantastic Yoga Teachers at our Namaste People page.
Read what people are saying.
We always have an exciting programme of workshops and courses perfect for those looking to deepen their practice or try something new.
Located in Belfast, opposite Ormeau Park and close to the City Centre, we look forward to your visit here at one of the major centres of yoga in Ireland.
Book Online
Book a yoga class through our schedule and online booking system.
Book your place
Sunday Morning Yoga Class (75mins)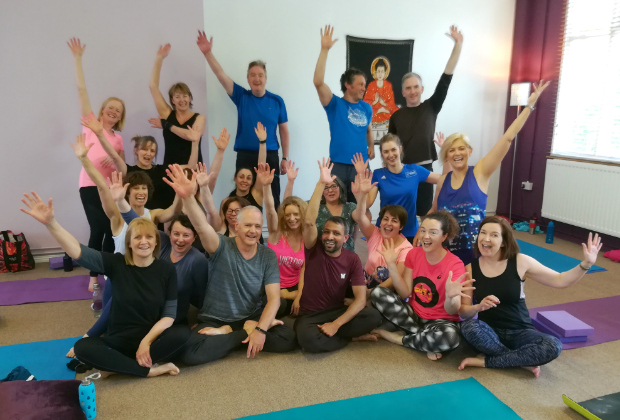 Date: Every Sunday
Time: 11.15am - 12.30pm
Price: £10
A Sunday class just for you