Welcome to Namaste Yoga Centre, we have been providing quality yoga classes in Belfast City since 2003.
Our Centre is a calm and quiet space. We have created it that way so You have a place to retreat to. Just for that 1 hour a week.
New to yoga? Experienced practitioner? Somewhere in between? You are in the perfect place. Namaste.
You are never too old to start yoga nor too young either.
You don't have to be bendy to do yoga nor super slim or super fit.
Yoga is for everyone regardless of shape, age or size. And Yoga Is for men too!
Yes, you may find yourself in some strange Yoga positions, but so is everyone else and believe us, it's fun!
Our Yoga classes
We provide 26 weekly yoga classes in Belfast from 60 to 90 minutes in duration.
And we have 4 main levels of class depending on your current level of health and fitness and knowledge of yoga.
Absolute Beginners
If you are new to exercise or feeling physically out of shape, then our Absolute Beginners Yoga Class is perfect for you. This class gets back to Yoga Basics and is a fantastic way to re-awaken your body.
Beginners
Up for seeing what it's all about? Then Beginners Yoga is the class for you. This is a great introduction to Yoga and you don't need any Yoga experience at all to do this level of class.
Easier Intermediate
Ready to move beyond Beginners? then the Easier Intermediate is the next step. More of a workout than Beginners, you will learn more challenging postures.
Intermediate
If you are looking for a Yoga Workout, then our Intermediate Yoga Class will suit you better. With 90 minutes of Sun Salutations, Asanas and Pranayama, you'll be ready for the relaxation at the end.
Move up levels as you learn and your fitness, knowledge and strength improves.
Other levels :
Mixed Ability
These mixed ability yoga classes are suitable for any level including beginners. If you are injured, the Absolute Beginners Yoga would be better. If you are looking for a Yoga Workout, then the Intermediate Yoga Class or Easier Intermediate would be good.
45 Mins Express Yoga Workout
A fast and endurance based 45 mins Yoga class that is a workout. Suitable for Beginners but not if you are injured or new to exercise.
……………………………………………………………………………………….
Check out Book Classes for class times and to book a class online.
Our 8 week session is the Best value option – phone Jennifer 07966912953 to book your place.
……………………………………………………………………………………….
Learn more about our fantastic Yoga Teachers at our Namaste People page.
Read what people are saying.
We always have an exciting programme of workshops and courses perfect for those looking to deepen their practice or try something new.
Located in Belfast, opposite Ormeau Park and close to the City Centre, we look forward to your visit here at one of the major centres of yoga in Ireland.
Book Online
Book a yoga class through our schedule and online booking system.
Book your place
Sunday Morning Yoga Class (75mins)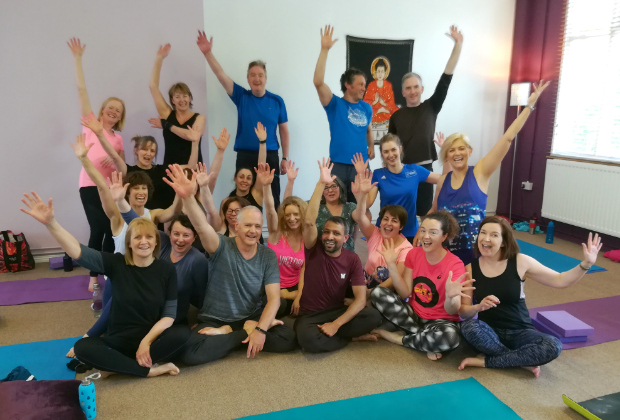 Date: Every Sunday
Time: 11.15am - 12.30pm
Price: £10
A Sunday class just for you