Kids Yoga
Yoga for Children and Young Adults
We provide Yoga Classes for Kids about once a month on a Saturday or Sunday.
Sammia McCamphill teaches the Yoga for Children Classes.
Next Yoga for Kids class….
Yoga for Kids
Sunday 02 Feb 2020
2-3pm
£8
Kids ages 5 – 8
Please email sammiae@yahoo.com to book
…………………………………………
During this fun filled yoga session your child will complete a full yoga session of tuning in
> warming up
>practicing postures
>playing yoga games
>breathing activities
>relaxation.
As February is the month of Love, we will practice yoga sequences we love and think about the people and things we love and appreciate.
Suitable for children aged 5-8/9 (P1 to p5).
To book please contact Sammia: sammiae@yahoo.com.
Kids Yoga must be booked and paid for in advance: 1hr class: £8.00
Book Online
Book a yoga class through our schedule and online booking system.
Book your place
May 2020 – Yoga for Kids Teacher Training with Yoga&Kids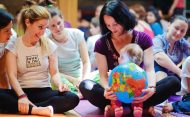 Time: Fri 1pm - Sunday 5.30pm
Price: £400
3 - day course, mainly practical with some theory, in which you will experience how to be a kid again and connect with your inner child
Hear about our New classes and Events. Sign up for our Newsletter