Absolute Beginners Yoga (60mins)
This is our easiest yoga class. You will learn the basics of the yoga postures with a guided relaxation at the end.
We provide 5 Absolute Beginners Yoga Classes:
Monday at 6pm,
Tuesday at 6pm, 7pm
Wednesday at 6pm, 7pm
…………………………………………………………………
£9 online/£10 drop in
£64 – 8 week session – book here
*not suitable during pregnancy
Each Absolute Beginners Yoga class is 60 minutes.
Mats are provided.
…………………………………………………………………………..
If you are new to exercise or feeling physically out of shape, then our Absolute Beginners Yoga Class is perfect for you.
…………………………………………………………………………..
Back pain, shoulder issues, knee problems?
This is the class for you. Your teacher will guide you through the poses and instruct you on any modifications that you need.
You are probably feeling nervous about starting Yoga. That's ok, most people are when they first start.
Our classes are small and there's lots of space.
Jill Hogan and Orla McKeagney teach the Absolute Beginners Yoga Classes.
Many people love this level of class and are happy to continue month after month. However, if you feel ready to move up a gear, then you are welcome to switch to a Beginners Yoga Class.
Ask your teacher if you are not sure if you are ready.
New to yoga? find out more about this ancient practice.
If you are unsure which class is for you, feel free to chat to Keshav or Jennifer, they will find the right class for you.
Book Online
Book a yoga class through our schedule and online booking system.
Book your place
Feb 2020 – Yoga for Teens Teacher Training with Cayetana Rodenas from Yoga&Kids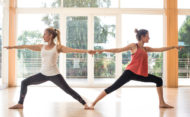 Time: Fri 1pm - Sunday 5.30pm
Price: £450
3 - day course, mainly practical with some theory, in which you will experience how to be a kid again and connect with your inner child
Hear about our New classes and Events. Sign up for our Newsletter