Things we find useful, insightful and yummy and wanted to share…

Rice Pudding – Khir
As a kid, I loved Rice Pudding or Creamed Rice. It was straight out of the can and was super sweet and a very satisfying dessert.
On one of our latest family trips to Nepal, we sat down for dinner and were served a big bowl of Rice Pudding sweet with dried fruits and sugar. I couldn't believe it. Rice pudding for dinner!
Khir (Rice Pudding) is considered a special dish in Nepalese culture. It is often made during Festival time or for a special occasion (such as family visiting from abroad!)
We love it and often have it as a breakfast treat or for a lovely snack.
We make it without sugar and use organic ingredients.
Ingredients:
1 Litre – Milk
1/2 Cup – Rice (of your choice, we like Basmati)
Handful of desiccated Coconut
2 or 3 –  Medjool Dates – chopped
1/2 Tsp – Ground Cinnamon
Pinch – Cardamon Ground (fresh or pre-ground)
Pinch – Nutmeg  (Freshly grated or pre-ground)
Optional – Sugar or alternative Sweetener such as Agave or Maple syrup
Method:
Bring milk to boil in a medium sized pot
Add the coconut and chopped dates
Add the spices (Cinnamon, Cardamon and Nutmeg) and stir
Add the Rice and sweetener if desired (we don't as the dates add a lot of sweetness) again stir
Bring back to the boil and then simmer for about 30 – 40 minutes
Stir a few times during the cooking and add extra milk or water if needed
Towards the end of the cooking, you may need to stir often
Namaste And Enjoy!
You might like Namaste Nepalese Kitchen – Jaulo
---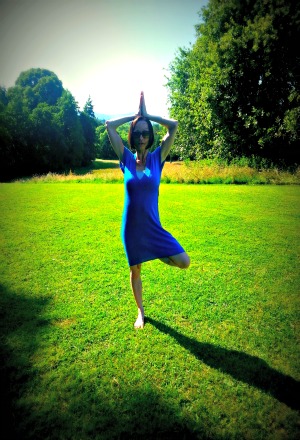 T.R.E.E. Guide to Yoga Postures
By Jennifer Walsh-Rupakheti – Owner & Founder of Namaste Yoga Centre Belfast
If you are struggling with a Yoga posture, take a breath and remember T.R.E.E.
Try – Give it a go. Try the Yoga Posture and see how it goes. If you don't try then you will not know what you are capable of
Relax – Remember to relax into the Yoga posture. When you tense up and try too hard, your muscles will contract. This means that you are tensing the muscles that you are trying to stretch. Ooch.  So relax and allow your body to gently stretch and release tension
Ease – Be gentle with yourself and your body in the Yoga pose. Don't push and force. Go easy, slowly and gracefully through the posture. Remember, Yoga is not a competitive sport.
Enjoy – Smile, laugh and giggle. Take time to enjoy it. You are amazing!
For more Yoga Tips Read Namaste Yoga Tips
---
Book Online
Book a yoga class through our schedule and online booking system.
Book your place
ONLINE – JUNE 2021-Yoga for Kids Teacher Training with Yoga&Kids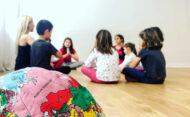 Time: Friday 3-6pm, Saturday 12-3pm, Sunday 12-3pm
Price: £260
3 - day course, mainly practical with some theory, in which you will experience how to be a kid again and connect with your inner child
Hear about our New classes and Events. Sign up for our Newsletter