Namaste Nepalese Kitchen – Achar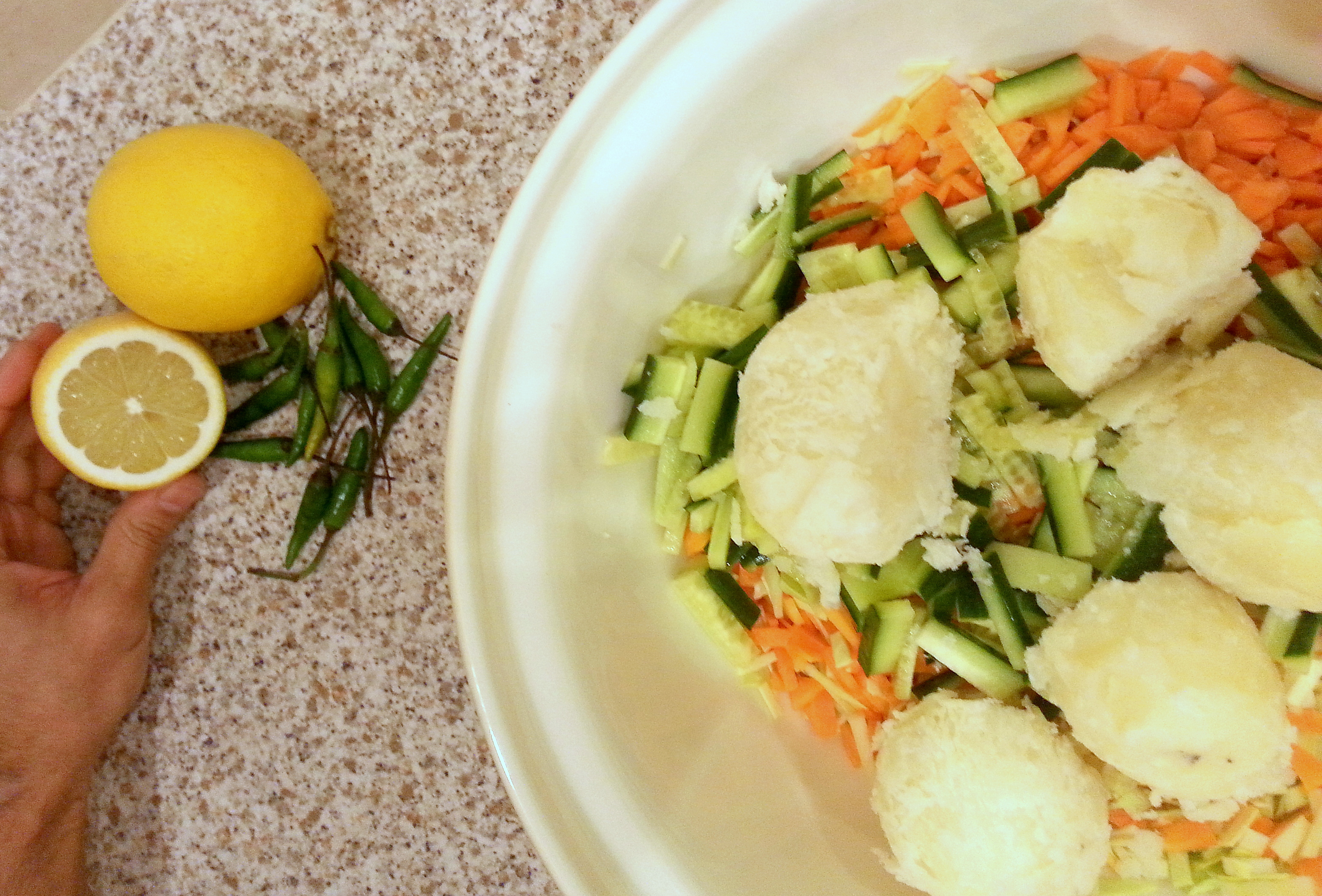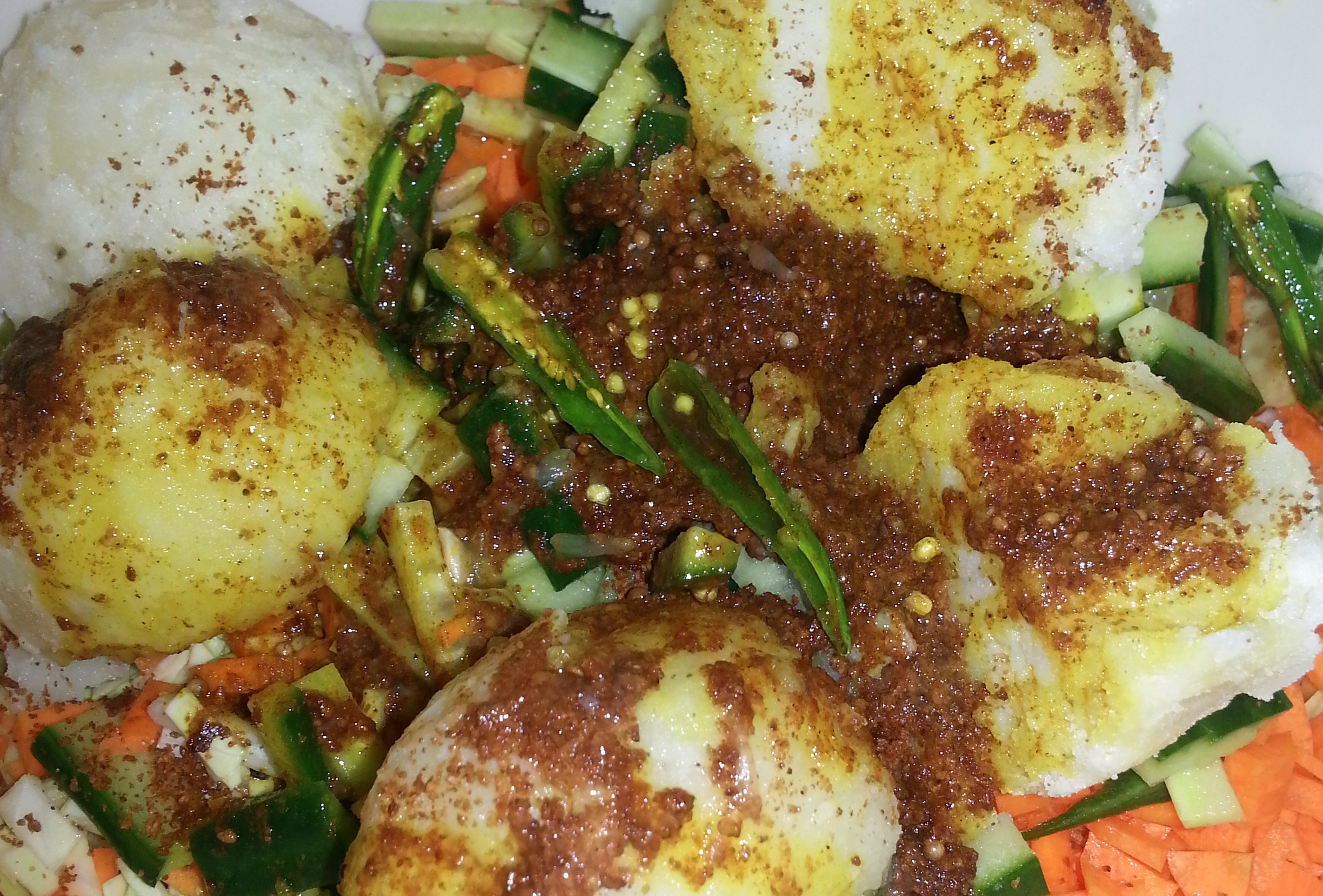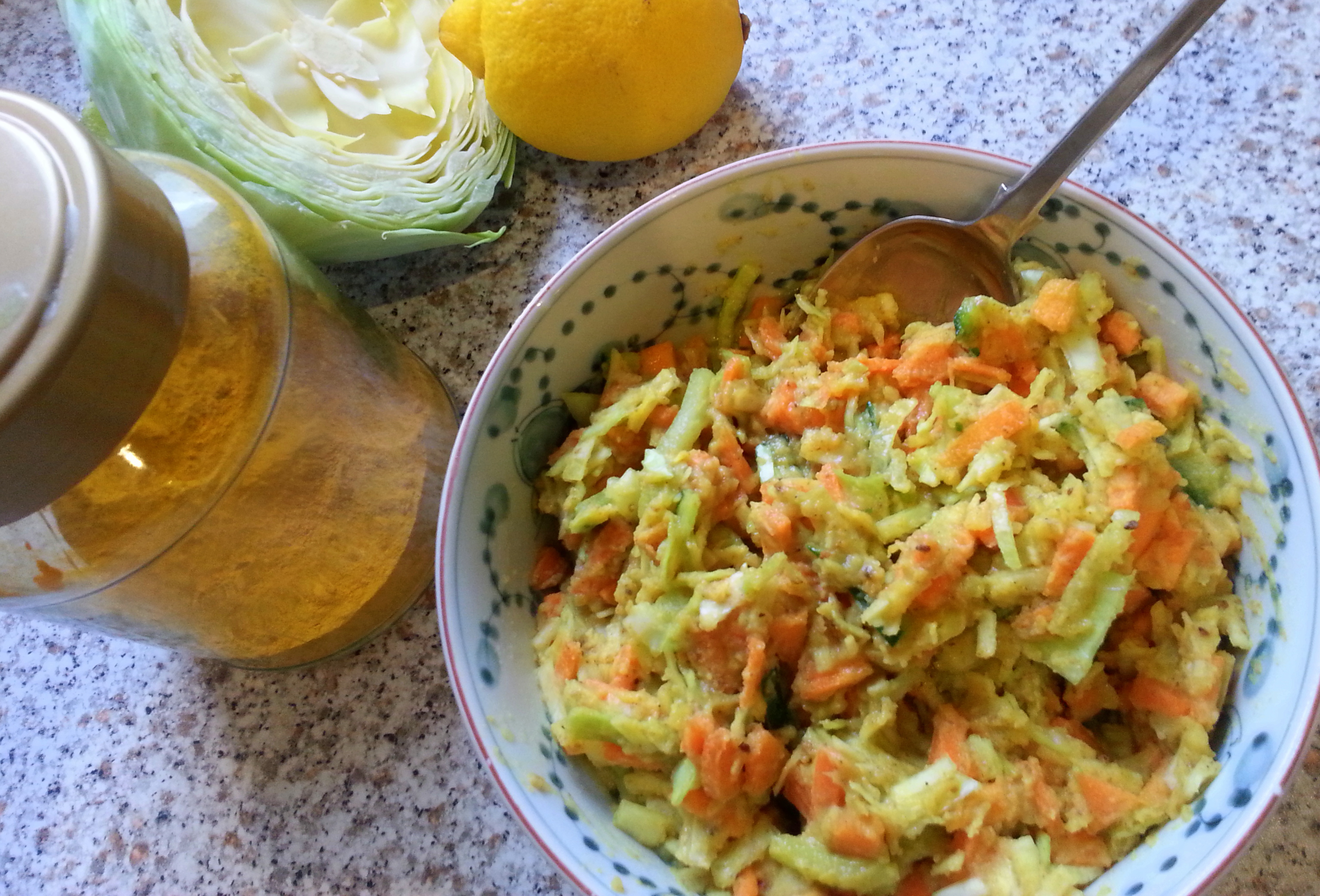 Achar – Nepalese Slaw
This tasty side dish is one of our favorites. Known as Achar or Pickle, it is often made during Festival time or for a special occasion and is served along side spiced meat dishes, vegetable curries and other festival food.
We make this dish often in our house and it is so versatile.
We call it Nepalese Slaw as the base ingredients are so similar to coleslaw.
We often serve it as a side with fish or with breads, cheese, olives as a mini picnic.
Ingredients:
1/2  Whole Cucumber
3 Medium sized Carrots
1/2  Whole Cabbage
3 Medium sized Potatoes (cooked and cooled)
1/2 Whole Lemon
2 Tablespoons of Sesame seeds
Salt to taste
For Dressing:
1 Tablespoon of Oil (we use Organic Cold-Pressed Rapeseed Oil)
Pinch – Mustard Seeds
1 Teaspoon Tumeric
1/2 Teaspoon Garam Masala
Green Chillies ( 1 or 2 depending on how hot you like it!) – Finely chopped
Method:
Finely slice the Carrots, Cucumber and Cabbage (like coleslaw).
Boil/Steam the Potatoes in their skins. Allow to cool and peel.
Dry fry/roast the Sesame seeds on a frying pan until they slightly brown (just a few seconds) and then grind with a mortar and pestle (this step is important as the roasted seeds give the Achar it's distinct flavour)
Put all these ingredients in a large mixing bowl.
Add salt to taste (about 1 teaspoon or so).
To make the spiced dressing:
Heat the oil in a small pot
Add the pinch of Mustard seeds and allow to cook for just a few seconds
Add the Tumeric and Garam Masala
Add the Green Chillies
Fry together quickly for 5-10 seconds then immediately pour over the vegetables
……………………………………………………………………………………………………………………..
Mix/Squash all the ingredients together until well integrated
Add a little water if needed
Squeeze 1/2 Fresh whole Lemon over the Achar and mix in well.
Namaste And Enjoy!
You might like Namaste Nepalese Kitchen – Jaulo
You might also like Namaste Nepalese Kitchen – Khir
Book Online
Book a yoga class through our schedule and online booking system.
Book your place
Sept 2022 – Yoga for Kids Teacher Training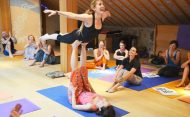 Time: Fri 1-5pm, Sat 9am-6pm, Sun 9am-4pm
Price: £430 Early Rate
In person Yoga for Kids Teacher Training
Hear about our New classes and Events. Sign up for our Newsletter