Hot Asian Summer Broth by Julie-Anne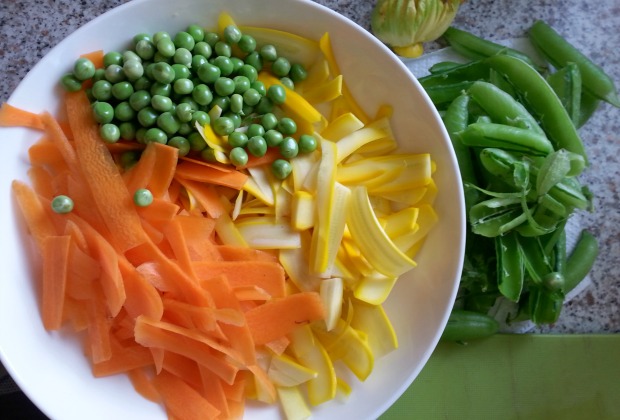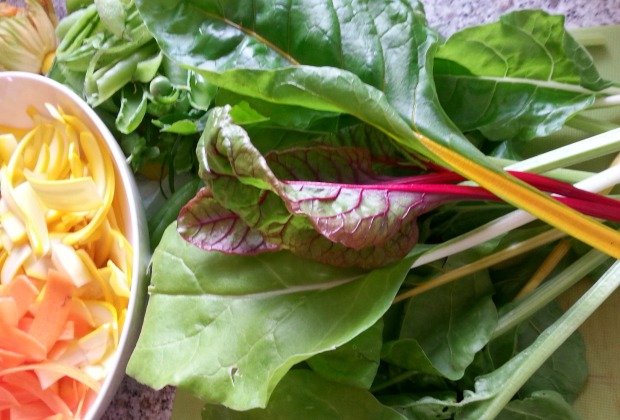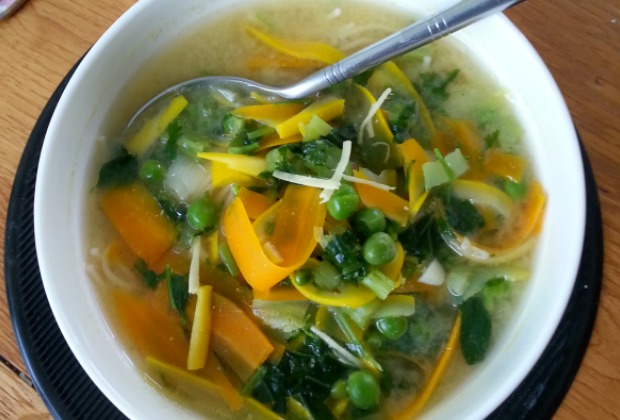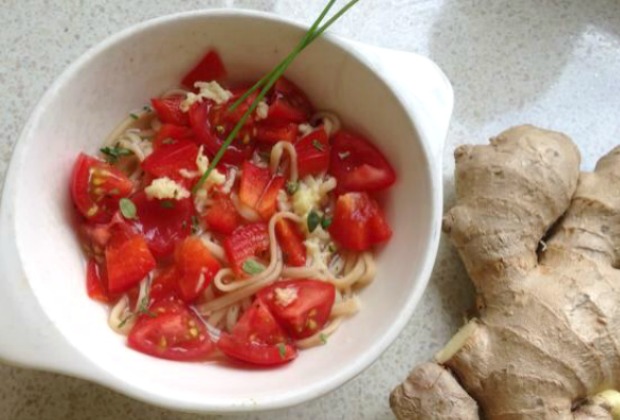 Hot Asian Summer Broth
by Julie-Anne Mullan
On a recent stay in Singapore with my daughter, new mum to a 2-week-old, temperatures were in the 30degree C and needless to say I felt roasted!
How surprising therefore to notice that hot soup tasted extra good.
The inner heat induced by chili and ginger enhanced the miso, noodle and freshly chopped veggies.
I developed an appetite for this quick food!
Ingredients:
Noodles of your choice (we like organic brown rice noodles or spelt spaghetti)
Miso paste (try to find non-GMO brand)
Selection of veg of your choice (we like yellow courgettes, spring onion, spinach/greens, peas, carrot)
Fresh Root Ginger
Fresh Chili
Fresh Garlic
Fresh coriander leaves
Method:
Firstly, prepare the veg
Finely slice the veg, we like to use a peeler to cut ribbons of courgettes and carrots (straight from our garden)
Finely chop the garlic
Finely chop the chili
Cut julienne of ginger
Now, Cook the noodles as per instructions on the packet
In a medium pot, put the veg and garlic and add enough water to cover, bring to the boil and cook until just cooked (you can have the veg raw if you prefer)
Add miso to taste (about 1 tablespoon per serving)
Add the coriander and cook for just a minute
Now, bring it all together. Add a serving of noodles to a bowl, next laddle in the veg and miso broth.
Lastly top with the fresh and raw ginger and a little chili (some chives, spring onions or more fresh coriander too)
That's it! Delicious!
* for added protein add chicken, cashews, or haloumi/tofu
Enjoy!
Julie-Anne Mullan
You might like Coconut Almond Healthy Cookies
You might also like Namaste Nepalese Kitchen – Khir
Book Online
Book a yoga class through our schedule and online booking system.
Book your place
Sept 2022 – Yoga for Kids Teacher Training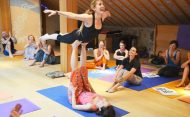 Time: Fri 1-5pm, Sat 9am-6pm, Sun 9am-4pm
Price: £430 Early Rate
In person Yoga for Kids Teacher Training
Hear about our New classes and Events. Sign up for our Newsletter