Namaste Nepalese Kitchen – Jaulo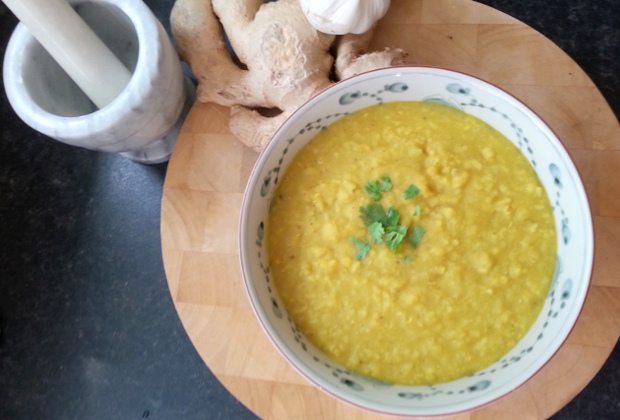 Jaulo – Nepalese Stew
Reminiscing back to childhood meal times, brings up memories of Irish stew, shepherds pie and chicken soup. Homely and lovely comfort food.
Jaulo is the Nepalese version of  this hug in a bowl. Made using the Nepalese and Indian staples of Rice, Lentils, Garlic and Ginger, it is scrummy and the perfect dish when it's raining outside or when you need something warm and satisfying.
Ingredients:
1 Cup – Red lentils or Moong Dal
1/3 Cup – Rice
1 or 2 Garlic cloves – finely chopped
Fresh root Ginger – Thumb size piece – finely chopped/grated
1 teaspoon – Turmeric
1/2 teaspoon – Garam Masala
Cumin seeds – pinch
Salt to taste
Optional – Veg or Chicken stock
4 – 5 Cups – Water
Method:
Wash lentils/dal until the water runs clear (soak for about 30mins to reduce cooking time-optional)
Heat a little oil in a medium sized pot
Add the pinch of Cumin seeds and allow to cook for just a few seconds
Add the garlic and ginger & soften for a minute or so
Add lentils/dal and stir in
Add the Turmeric and Garam Masala. Stir together to combine ingredients and cook for 30 secs
Add the rice and again stir in
Add 4-5 cups of water (depending on how thirsty your lentils and rice are)
Add salt to taste (about 1 teaspoon)
Add veg or chicken stock if desired
Stir well and bring to the boil and simmer for 25 minutes or until the lentils and rice are well cooked.
Stir a few times during the cooking and add water if needed. Some people like this dish to be really thick and others prefer it to more thin, it's up to you!
We like to have ours with a lovely spoonful of natural yogurt and a sprinkling of coriander leaves
Namaste And Enjoy!
You might like Namaste Kitchen – Herby Pea Soup
Book Online
Book a yoga class through our schedule and online booking system.
Book your place
Sept 2022 – Yoga for Kids Teacher Training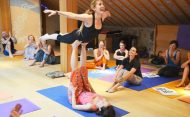 Time: Fri 1-5pm, Sat 9am-6pm, Sun 9am-4pm
Price: £430 Early Rate
In person Yoga for Kids Teacher Training
Hear about our New classes and Events. Sign up for our Newsletter