Namaste Nepalese Kitchen – Khir

Rice Pudding – Khir
As a kid, I loved Rice Pudding or Creamed Rice. It was straight out of the can and was super sweet and a very satisfying dessert.
On one of our latest family trips to Nepal, we sat down for dinner and were served a big bowl of Rice Pudding sweet with dried fruits and sugar. I couldn't believe it. Rice pudding for dinner!
Khir (Rice Pudding) is considered a special dish in Nepalese culture. It is often made during Festival time or for a special occasion (such as family visiting from abroad!)
We love it and often have it as a breakfast treat or for a lovely snack.
We make it without sugar and use organic ingredients.
Ingredients:
1 Litre – Milk
1/2 Cup – Rice (of your choice, we like Basmati)
Handful of desiccated Coconut
2 or 3 –  Medjool Dates – chopped
1/2 Tsp – Ground Cinnamon
Pinch – Cardamon Ground (fresh or pre-ground)
Pinch – Nutmeg  (Freshly grated or pre-ground)
Optional – Sugar or alternative Sweetener such as Agave or Maple syrup
Method:
Bring milk to boil in a medium sized pot
Add the coconut and chopped dates
Add the spices (Cinnamon, Cardamon and Nutmeg) and stir
Add the Rice and sweetener if desired (we don't as the dates add a lot of sweetness) again stir
Bring back to the boil and then simmer for about 30 – 40 minutes
Stir a few times during the cooking and add extra milk or water if needed
Towards the end of the cooking, you may need to stir often
Namaste And Enjoy!
You might like Namaste Nepalese Kitchen – Jaulo
Book Online
Book a yoga class through our schedule and online booking system.
Book your place
Sept 2022 – Yoga for Kids Teacher Training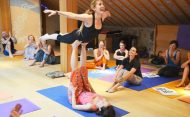 Time: Fri 1-5pm, Sat 9am-6pm, Sun 9am-4pm
Price: £430 Early Rate
In person Yoga for Kids Teacher Training
Hear about our New classes and Events. Sign up for our Newsletter