Things we find useful, insightful and yummy and wanted to share…

Pumpkin Cake with Essential Oil of Mandarin
(Standard and Vegan Versions)
Ingredients:
200g  Ground Almonds
230g  Organic -and preferably unsweetened- apple sauce at room temperature (or 4 eggs for the non-Vegan version)
175g  Organic Virgin Coconut oil
85g  raw honey or same amount of Agave syrup (Vegan)
150g  pumpkin
1tspn  ground clove
1 1/2  tspn cinnamon
1 1/2  tspn allspice
2 level  tbsp baking powder
3 drops Certified-Organic Red Mandarin Essential Oil
Method:
1. Cut the pumpkin into cubes and roast in a hot oven until cooked through. Allow to cool and sit for a few hours/overnight to allow the juices to separate. Discard the juices.
2. Melt and cool Organic virgin Coconut oil
3. If using eggs, whisk them til frothy and then add the 3 drops of Certified-Organic Red Mandarin oil
4. If using the apple sauce, whisk the honey into the coconut oil and then add the apple sauce to the mix. Add the 3 drops of Certified-Organic Red Mandarin oil
5. Add the spices and the baking powder to the ground almonds and mix through
6. Add the almond mix to the egg/apple sauce mixture stirring anti-clockwise as you go!
7. For the finale, add the pre-mashed pumpkin, gently mixing it in anti-clockwise
8. Pour the mixture into a lined loaf tin (you can divide into an individual muffin tin if you prefer but don't forget to adjust the cooking time to about 25 minutes)
9. Place in to a pre-heated oven, gas 2/3, 160c for 40 minutes then cover with foil for the remainder 15mins or until cooked.
Test with a skewer, it should come out clean.
Enjoy !
By Mayella Almazan from Yo Soy Gaia
---
Namaste
I look at you
From my heart
And my heart opens
To see you
Namaste
Your eyes dazzle me
As your heart
Sings through them
Namaste
Your smile wakens me
As your soul
Speaks to me
Namaste
Your beauty captures me
And i forget time
Namaste
You look back at me
Our souls meet
Namaste
…………………………………………………………………………………………………………………………………….
…………………………………………………………………………………………………………………………………….
Jennifer Walsh-Rupakheti, Founder & Owner of Namaste Yoga Centre in Belfast in Northern Ireland.
Wife to Namaste Yoga Centre co-founder and Yogi Keshav Rupakheti and mum to Lukas and Jasmine.
Enthusiastic lover of Yoga for many years (18 years I think), keen gardener, experimental cook and meditation addict.
When things get tough. I write poems. Strange but true. It helps.
---
Book Online
Book a yoga class through our schedule and online booking system.
Book your place
Sept 2022 – Yoga for Kids Teacher Training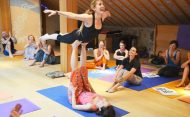 Time: Fri 1-5pm, Sat 9am-6pm, Sun 9am-4pm
Price: £430 Early Rate
In person Yoga for Kids Teacher Training
Hear about our New classes and Events. Sign up for our Newsletter