Namaste Events in 2018 …
Coming up in February and March 2018…
Everyone is welcome to attend any of our events, you don't need to be a Namaste student.
Click on the Event to find out more about it.
Please book into each event as soon as you can. Phone/text Jennifer 07966912953
Prepay options are available for some events, please check details.
Namaste, Jennifer and Keshav

A Family Yoga Trip to London
with Aisling Graham
Saturday 03 March 2018 
2:30pm – 3:30pm
Family Tickets 2 adults + 2 kids = £23
1 adult + 1 kid = £13 + £5 additional children
Contact Aisling  07753323534 to book your place as spaces are limited
………………………………………………….
Join Aisling Graham (Yoga for Kids) at Namaste Yoga Centre for the next family Yoga Class on March 3rd.
Class will begin promptly at 2:30pm as we will be heading off on a whirl wind tour of the City of London.
We will be making pit stops at the Tower of London where the Queen keeps the crown jewels, Buckingham Palace, London Zoo, the London Eye, Kew Gardens, dining at the Hard Rock Cafe and taking in a show at The London Palladium.
This class is not to be missed. There will be plenty of fun for the kids, gaffes for the adults , music, movement and relaxation to round it all off.
Advance booking is necessary.
Please call/text Aisling on 07753323534
………………………………………………….
Aisling's Yoga qualifications:
Special Yoga and Mindfulness for Autism and ADHD February 2016 from Special Yoga Foundation in London with Jo Manuel, Enchanted Wonders – Yoga for Primary School Children – Enhancing Child's Expression June 2015 at Special Yoga Foundation in London with Ayala Homassany,
200hr Santosha Teacher Training Diploma from Santosha Yoga Training November 2015
Rainbow Kids Yoga for Kids and Families Teacher Training 2014.
I am also insured and registered with the UK Yoga Alliance.
I also have a BA Hons in Business from Univer
---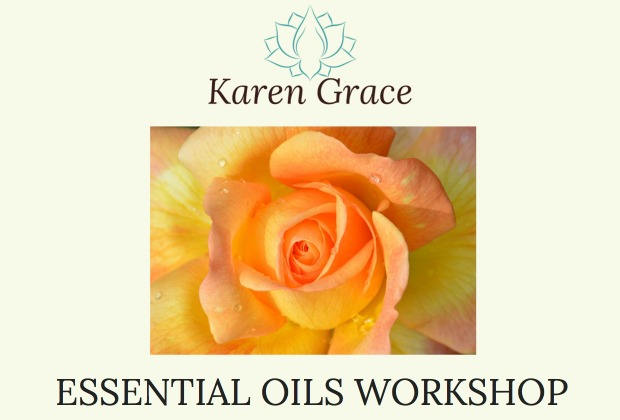 Introduction to Essential Oils Workshop
For a Healthy Body and Mind
with Karen Houston
Saturday 24 March 2018
10am – 12noon
£15
Please register and pay online
https://www.karengracewellness.com/events/2018/2/12/introduction-to-essential-oils
……………………………………….
Join me as I step you through everything you need to know about essential oils.
Learn how to bring stronger physical and emotional wellbeing to your life.
The essential oils we'll be discussing in this class represent the safest and purest essential oils available today.
In this Introduction to Essential Oils Workshop you will learn how to incorporate essential oils into your everyday life to support a natural lifestyle. Pure Essential Oils are powerful plant compounds that can be used in a variety of ways to benefit your health and wellbeing.
In this class you will learn:
+ What essential oils are
+ What are the most important ones that every household needs
+ How to safely use essential oils
Essential oils can:
+ support emotional wellbeing + enhance your spiritual practice
+ promote deep and restful sleep
+ improve digestive health
+ help to fight colds
+ alleviate headaches
+ be used to make natural skincare and natural cleaning products
and so much more!!
You'll have the opportunity to experience the oils on the day.
Come along to discover how essential oils can support you in leading a natural and holistic life.
I can't wait to share with you!
Karen Houston
---
A Family Yoga Trip to London
Time: 2.30pm-3.30pm
Price: 1 adult + 1 kid = £13 + £5 additional children
Fun Family Yoga Class
Hear about our New classes and Events. Sign up for our Newsletter