Namaste Events in 2017 …
Coming up in Autumn 2017…
Past Events
| | | |
| --- | --- | --- |
| Event | Day and Date | Time |
| Moana  themed – Family Yoga Class |  Saturday 30 September 2017 |  2.30 – 3.30pm |
| Chill Out with Keshav | Thursday 14 September 2017 | 8.15  – 9pm |
| Matilda Roald Dahl themed – Family Yoga Class | Saturday 10 June 2017 | 2.30 – 3.30pm |
| Handstand and Partner Acro Workshop with Tumble Circus | Saturday 13 May 2017 | 10am – 12noon |
| 6 week Mindfulness with Bridgeen Rea | Thurs 04 May 2017 | 8.15pm – 9.15pm |
| Yoga Workshop with Jill Hogan | Saturday 25 March 2017 | 10am – 12.30pm |
| Star Wars themed – 2 x Family Yoga Classes | Saturday 18 March 2017 | 2.30 – 3.30pm and 4 – 5pm |
| Yoga Workshop with Keshav Rupakheti | Saturday 04 March 2017 |  10am – 12.30pm |
|  Harry Potter themed – Family Yoga Class | Saturday 04 February 2017 | 14.30 – 15.30 |
| 6 week Mindfulness with Bridgeen Rea | Thurs 19 January 2017 | 8.15pm – 9.15pm |
| Namaste Christmas Party | Sunday 08 December 2016 | 7pm |
| 6 week Mindfulness with Bridgeen Rea | Thurs 08 Dec 2016 | 8.15pm – 9.15pm |
| Yoga Workshop with Jill Hogan | Saturday 19 November | 10am – 12.30pm |
Everyone is welcome to attend any of our events, you don't need to be a Namaste student.
Click on the Event to find out more about it.
Please book into each event as soon as you can. Phone/text Jennifer 07966912953
Prepay options are available for some events, please check details.
Namaste, Jennifer and Keshav

6 week Mindfulness Meditation Course
with Bridgeen Rea from Immesurableminds
Thursday 05 October 2017
8.15pm – 9.15pm
£48.00
………………………………………………………………….
16 November 2017
£40.00 for 5 weeks
(This course is provided by Immeasurable Minds. Please book via immeasurableminds.co.uk)
Thursdays   20.15 – 21.15
……………………………………………………………..
This class is run independently by Immeasurableminds.
………………………………………………………………….
This popular and acclaimed 1-hour mindfulness practice class has been running for over  eight years now. It sells out every time so please book soon.
You will learn what mindfulness is, what the benefits of it are, how to practice it, how to sit in meditation, how to meditate yourself and how to do walking meditation.
Most importantly you'll experience an hour of peace and tranquility in a group of other local like-minded people.
Suitable for all: from beginners to experienced practitioners with a beginners mind.
DROP-IN @ £10 per class may be available ONLY for those who have completed a course with me in the past.
Payment is non-refundable and non-transferable.
Thank you.
Please Pay via Immeasurableminds.co.uk
---

Murnaghan Clinic
at Namaste Yoga Centre
265a Ormeau road,Belfast. BT3 7GG
Next clinics
Wednesday 25 October 2017
and
Wednesday 08 November 2017
10am – 4.30pm
£70 per session
Contact Deborah 00353834384977 to book
or via
…………………………………………..
Our Philosophy
At the Murnaghan clinic, we don't just fix injuries and take away the pain, we get to the main cause of the injury and work to prevent it from reoccurring.
We believe that creating effective results, requires a no nonsense approach to understanding injuries to body, how they occur and how they effect our client.  Injury patterns and strains often reoccur as the problem cause, is often not addressed and instead a temporary fix is put in place.
We don't believe in a temporary fix, we believe in the complete service!  Our word of mouth reputation for providing a full service of testing, finding, diagnosing, and fixing injuries is what enables our clients to stay pain free.  Our service and our client feedback is what keeps us busy.
All too often we get the same feedback regarding our service: "I wish I saved myself, the time, stress and pain and came to Dr Shane first" – but don't just take our word for it, take a look at our clients experiences on our testimonials page or any of our social media profiles, at the top of the site.
Please call the clinic, and experience our first class service for yourself – your body will thank you for it.
…………………………………………..
Symptoms & Injuries, we treat at the clinic
Treatments at the clinic begin with a complete diagnostic consultation with our Doctor of Traditional Chinese medicine. Based on his findings he will decide which treatment is best for you. There are a variety of treatments at the clinic. Although we do not expect you to know which treatment is best suited to your particular ailment, we have listed some of what we offer below and the types of injuries and symptoms we treat. At the clinic we also have male and female therapists.
…………………………………………..
Tinnitus, TMJ, vertigo, eye-strain, headaches, migraines, vertigo, teeth grinding, indigestion, acid re-flux, IBS, IBD, slow digestion, candida, constipation, diarrhea, trapped wind, abdominal bloating, insomnia, PMT, anxiety, panic attacks, stress.
Neck, jaw, shoulders, elbows, hands, hips, knees, ankles, feet, lower back, upper back.
Frozen shoulder, wry neck, sciatica, runner's knee, groin strain, tennis elbow, golf elbow, sprained ankle, limited neck movement, repetitive strain injury, tendinitis, carpel tunnel syndrome.
Poor muscle tone, muscle weakness, ligament strain, and joint flexibility.
…………………………………………..
Next clinic
Wednesday 25 October 2017
and
Wednesday 08 November 2017
10am – 4.30pm
£70 per session
Contact Deborah 00353834384977 to book
or via
---
6 Week Mindfulness Course with Immeasurableminds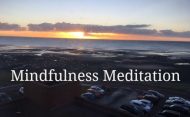 Time: 20.15 - 21.15
Price: £48
an hour of peace and tranquility in a group of other local like-minded people
Hear about our New classes and Events. Sign up for our Newsletter