Namaste Events in 2019 and 2020…
Coming up in Summer 2019…
Everyone is welcome to attend any of our events, you don't need to be a Namaste student.
Click on the Event to find out more about it.
Please book into each event as soon as you can. Phone/text Jennifer 07966912953
Prepay options are available for some events, please check details.
Namaste, Jennifer and Keshav
Happy Hips Yoga Workshop
Saturday 17 February 2018
10.30am – 12.30pm
£25
Please pay before Friday 02 Feb 2018
Pay any teacher at the centre or by bank transfer
Thank you,
Jennifer & Keshav
jennifer@namasteyogacentre.co.uk
………………………
Loosen up your hips this February 2018!
A full body workout with special attention to releasing restriction from the lower back and pelvis.
Have you been doing yoga regularly for 3 months or more?
Then this class is suitable for you.
If you are injured or recovering from illness and not sure if this class is suitable for you – please contact us on 07966912953
Please book your place. Prepayment is required to hold your place. Either by bank transfer or cash.
………………………
Keshav Rupakheti
Founder, Owner & Principal Yoga Instructor of Namaste Yoga Centre, Belfast, UK
"Yoga is a life long Journey" Keshav Rupakheti
Watch Keshav being interviewed on 'Voices of the New Belfast'.
Highly accomplished in many aspects of Yoga, Keshav provides professional training of the highest quality. His vibrant and dynamic approach to yoga ensures that his classes are highly energetic and fun-filled. Keshav teaches the Beginners and Intermediate Yoga classes at the centre plus the Saturday Workshops and his unique meditation classes.
Keshav studied Yoga full time with Swami Sachidananda Vishuddha Dev in Nepal specialising in Yoga postures (asanas), breathing techniques (pranayama), meditation, yogic cleansing and yoga therapy. He has been teaching professionally since 1997.
Read "It's a Yoga Life " by Keshav Rupakheti
---
Book Online
Book a yoga class through our schedule and online booking system.
Book your place
Halloween Yoga For Kids with Sammia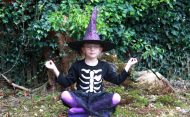 Time: 2pm - 3pm
Price: £8 each
Halloween kids yoga workshop
Hear about our New classes and Events. Sign up for our Newsletter