Sammia McCamphill
Teaches Yoga For Beginners and Kids Yoga
Sammia McCamphill teaches Level 1 & 2 classes and Kids Yoga at the centre.
Sammia graduated with her Diploma in Yoga Teacher Training and Yoga for Kids from Santosha Yoga Studio, Lisburn in 2011. However, her love for yoga started many years before this and she has many fun memories of practicing yoga with her mum as a child. She is passionate about health and fitness in general and, when not on her yoga mat, she can be found in a spin cycling class or Mexican dancing in various locations around Belfast!
Sammia is a busy and dedicated mum to her amazing 8 year old daughter, and is currently on a career break from her second career as a Primary School Teacher. Her first career was as a Microbiologist!
Sammia has extensive teaching experience teaching and mentoring undergraduates and Masters students as well as 7 years teaching Primary School pupils. She has a PhD in Microbial Genetics (2003), MSc Biotechnology (2000) and PGCE in Primary Education (2005). She also has Child Protection and Children's First Aid Training and has AccessNI enhanced disclosure check.
Book Online
Book a yoga class through our schedule and online booking system.
Book your place
Sept 2022 – Yoga for Kids Teacher Training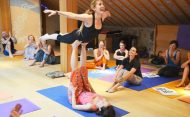 Time: Fri 1-5pm, Sat 9am-6pm, Sun 9am-4pm
Price: £430 Early Rate
In person Yoga for Kids Teacher Training
Hear about our New classes and Events. Sign up for our Newsletter