Yoga Essentials
What you need to know…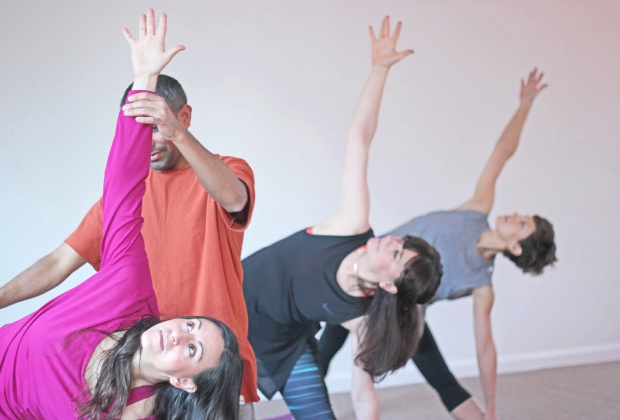 Book into a class that is suitable for you and that is at your level of experience or ability.
Your Yoga class will be a physical workout, so please wear suitable clothing. Most people wear sports gear, or yoga gear, that will allow you to move your body easily and without restriction. Please don't wear jeans and make sure that your t-shirt or top is not too baggy, otherwise it will just get the way.
Our rooms are very warm, but not hot. So you will be comfortable in sports gear, there is no need to wear a bikini.
Yoga is practised in bare feet on a yoga mat.
We provide yoga mats for your convenience. However, if you decide to continue your yoga practice for some months or even years, then it is advisable to purchase your own mat. There are many choices of mats from those made from natural materials to rubber ones. Ask you teacher if you need advice. If you do have your own mat, please bring it to your class, it is more hygienic for you.
Take responsibility for yourself and your body during your yoga class.
If you have an injury or medical condition, please let your teacher know.
Respect your body, Do not force, Do not push to the point of pain.
Yoga should not cause pain; it is up to you to ease back or to come out of a posture if it is uncomfortable for you. Talk to your teacher before or after your class for advice.
Your teacher will instruct and lead your yoga class from the top of the room. If you are new to your class, or hard of hearing, please place yourself near the teacher for your yoga practise.
Check out our Timetable for details of Yoga classes and Namaste People for our Yoga Teachers.
Book Online
Book a yoga class through our schedule and online booking system.
Book your place
Sept 2022 – Yoga for Kids Teacher Training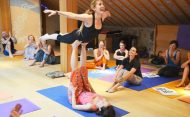 Time: Fri 1-5pm, Sat 9am-6pm, Sun 9am-4pm
Price: £430 Early Rate
In person Yoga for Kids Teacher Training
Hear about our New classes and Events. Sign up for our Newsletter