REPLAY – Sunday 05 July (Level2/3 – 75mins) – £5.50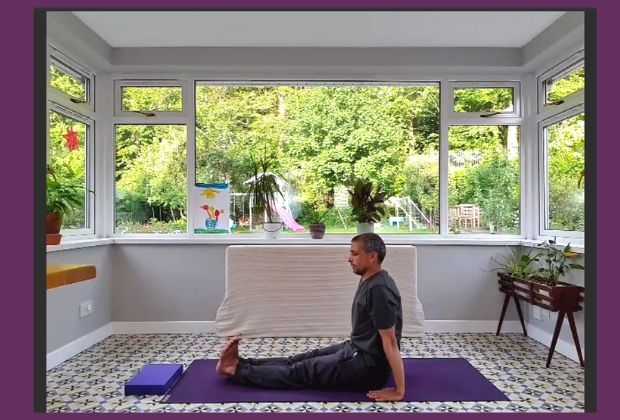 WATCH A RECORDING of this class
Mixed Ability – Level 2/3 – Suitable for Beginners
Our usual Sunday morning class – just online!
ONLINE Yoga Class via ZOOM
PLAYED LIVE – Sunday 05 July 2020
8 – 9.15pm
£5.50
Pay for this class and we will then send you a link to the recording
The link is valid for a few days, so you can watch in your own time.
…………………………………………………………………………..
Suitable for
anyone who is reasonably fit and healthy and wanting to learn Yoga
some experience of yoga
no experience of yoga
…………………………………………………………………………..
Please sign up for ZOOM.US. It is free.
You will need a yoga mat and some space to do your yoga practice.
And maybe a blanket and pillow for the relaxation at the end of the class.
Please join the class a few minutes before the class starts and please mute your microphone.
…………………………………………………………………………..
Our classes are structured so that you learn how to do yoga.
You learn whilst doing.
You can then do yoga at home or anywhere.
…………………………………………………………………………..
You can contact Jennifer if you needed
07966912953
Namaste Yoga Etiquette
Please arrive on time for your class.
Please leave your shoes in the hall way.
Please bring all your personal belongings into the Yoga room with you.
Please remember to be quiet whilst waiting for your class to start. (other classes may be on)
Thank You
Book Your Place
---
CLASS
REPLAY – Sunday 05 July (Level2/3 – 75mins) – £5.50
Date & time
8th July, 2020
18:00 ‐ 19:15
Teacher
Keshav Rupakheti
ONLINE PRICE
£7
PAY AT THE DOOR PRICE
Online booking required
UNAVAILABLE
This Event has expired.