Level 3 Yoga Class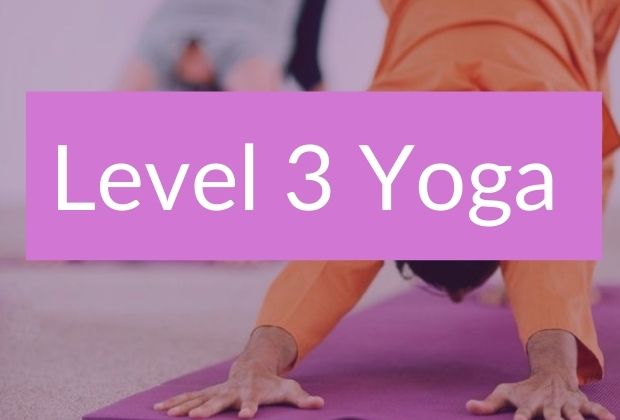 Thursday 10.00am – 11.15am
Level 3 – Easier Intermediate Yoga Class
*You will need to have attended at least 6 months of regular yoga classes to do this level
*not suitable during pregnancy
…………………………………………………………………………..
£75 – 8 week session – book here
…………………………………………………………………………..
Ready to move on from the Beginner level? This is the class for you.
This 75 minute yoga class will introduce new Yoga postures (Asana) and is more of a physical workout than the Beginner level.
Work up a sweat with Sun Salutations, tone and stretch with a wide range of Asanas, focus and calm with Pranayama and melt into the most important yoga posture of all, Savasana for deep relaxation.
All our Yoga Classes are all designed to provide a perfect balance of physical work to release stress, breathing to oxygenate and relaxation to calm.
Keshav Rupakheti  teaches this Easier Intermediate Yoga Class.
…………………………………………………………………………..
If you are unsure which class is for you, feel free to chat to Keshav or Jennifer, they will find the right class for you.
Namaste Yoga Etiquette
Thank you for booking your class at Namaste Yoga Centre.
We look forward to sharing our Yoga knowledge with you.
Please arrive on time for your class.
Please bring all your personal belongings into the Yoga room with you.
Please remember to be quiet whilst waiting for your class to start. (other classes may be on)
Thank You and Namaste,
Keshav and Jennifer Rupakheti
Namaste Yoga Centre Owners
Book Your Place
---
CLASS
Level 3 Yoga Class
Date & time
23rd June, 2022
10:00 ‐ 11:15
Teacher
Keshav Rupakheti
ONLINE PRICE
£11
PAY AT THE DOOR PRICE
£12
UNAVAILABLE
This Event has expired.