YOGA AT HOME – VIMEO DEAL – £18
If you are unable to attend a yoga class, then why not do Yoga at home?
We have over 60 recorded Yoga classes available now on our Vimeo page. You can do a class whenever suits you. You can pause, rewind and rewatch at any time, making it so easy to do yoga at home.
SPECIAL DEAL – 4 classes for £18
6 weeks to use
Book this deal and we will send you your unique code

Recordings of ALL the classes are now available to pay and View on Vimeo
Our Channel is Namasteyoga
Go to – https://vimeo.com/ondemand/namasteyoga
You will see a list of our classes.
It is £5.30 to RENT a class. i.e. to stream a class for 48 hours.
Just click on £5.30 and a window will open where you can enter your card details.
You can then view it immediately for 48hours.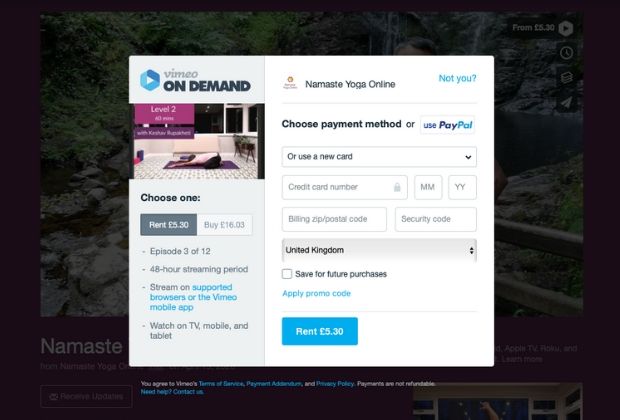 There will be a limited amount of REPLAYS still available on our website for the time being (as a transition)
LIVE classes will still be booked on our website as usual.
Namaste Yoga Etiquette
Please arrive on time for your class.
Please leave your shoes in the hall way.
Please bring all your personal belongings into the Yoga room with you.
Please remember to be quiet whilst waiting for your class to start. (other classes may be on)
Thank You
Book Your Place
---
CLASS
YOGA AT HOME – VIMEO DEAL – £18
Date & time
29th April, 2021
18:30 ‐ 20:30
Teacher
Keshav Rupakheti
ONLINE PRICE
£18
PAY AT THE DOOR PRICE
Online booking required
UNAVAILABLE
This Event has expired.