Yuletide Yoga Workshop with Jill Hogan
Time: 10:30am- 1pm and 2pm to 4:30pm
Price: £50 for the full day or £30 for half day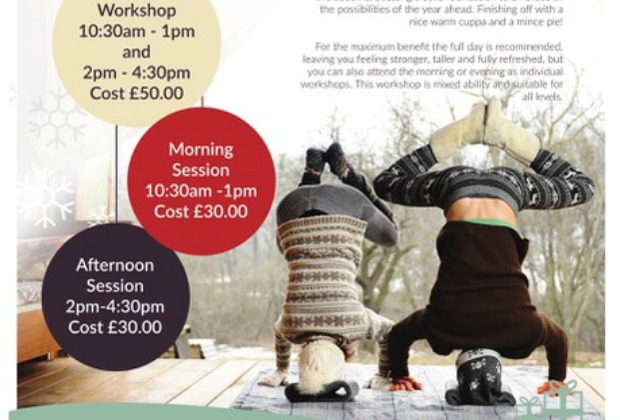 Yuletide Yoga
Saturday 30th December 2017
Full Day Workshop
10:30am- 1pm and 2pm to 4:30pm
This workshop is mixed ability and suitable for all  levels.
…………………………………
Cost £50.00
Morning Session only 10:30am -1pm
Cost £30.00
Afternoon Session only 2pm-4:30pm
Cost £30.00
…………………………………
A festive one-day yoga workshop with Jill Hogan.
The morning session is dedicated to the upper back and shoulders – releasing the front of the chest, opening the heart and letting go of any stresses from the year past.
The afternoon session will focus on the lower back and the abdomen, setting a solid foundation to embrace all the possibilities of the year ahead. Finishing off with a nice warm cuppa and a mince pie!
For the maximum benefit the full day is recommended, leaving you feeling stronger, taller and fully refreshed, but you can also attend the morning or evening as individual workshops.
This workshop is mixed ability and suitable for all  levels.
…………………………………
To Book your place contact Jill 07825 005184 email jill.create@gmail.com
Or Jennifer or Keshav at the Namaste Yoga Centre, 265A Ormeau Road, Belfast
Book Online
Book a yoga class through our schedule and online booking system.
Book your place
26 January 2019 – 45 mins Express Yoga Class – with Keshav Rupakheti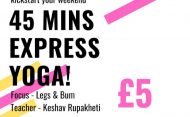 Time: 10.30am - 11.15am
Price: £5
A fast and Affordable class to kickstart your weekend!
Hear about our New classes and Events. Sign up for our Newsletter