26 May 2018 Yoga Philosophy, Movement & Meditation Workshop
Time: 9am - 1pm
Price: Cost: £40 *£35 Early Bird booked and paid before 11th May
 
Yoga Philosophy, Movement & Meditation Workshop
with Swami Purnananda Puri
Saturday 26th May
9am-1pm
Cost: £40
*£35 Early Bird booked and paid before 11th May
………………………………………….
A unique workshop with Swami Purnananda Puri will take place Saturday 26th May at Namaste Yoga Centre.
The morning will include a talk and discussion on Yoga Philosophy, Guided meditations and some yoga movement.
This workshop is open to anyone who is interested in progressing their yoga practice and is suitable for everyone at all levels.
The Swami is a monk from the Vedanta tradition, founder of the Eire Vedanta Society a branch member of the Belurmath Math and Mission and is also Jill's teacher.
For further information you can contact Jennifer at 07790 355546 or Jill 07825005184
Cost: £40
*£35 Early Bird booked and paid before 11th May
Time: 9am-1pm
Wear comfortable clothing.
Swami Purnananda Puri
Book Online
Book a yoga class through our schedule and online booking system.
Book your place
Feb 2020 – Yoga for Teens Teacher Training with Cayetana Rodenas from Yoga&Kids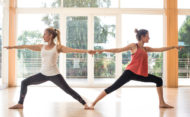 Time: Fri 1pm - Sunday 5.30pm
Price: £400
3 - day course, mainly practical with some theory, in which you will experience how to be a kid again and connect with your inner child
Hear about our New classes and Events. Sign up for our Newsletter