Beginners Yoga – 60 mins
We are so passionate about You learning Yoga and we care that you progress week on week.
Our classes relax both Body and Mind.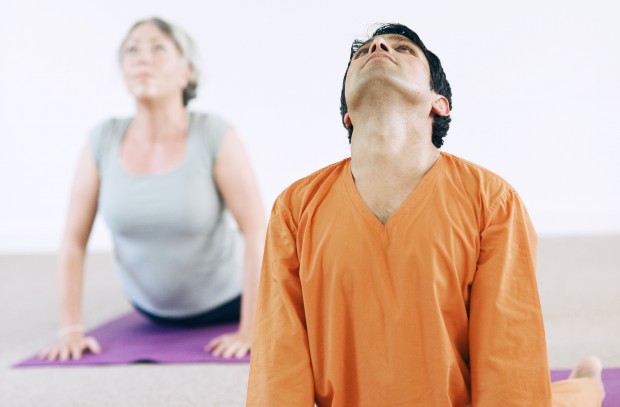 Beginners Yoga Classes
We provide 9 Beginners Yoga Classes:
Monday : 5.45pm,  7pm,  8.15pm
Tuesday : 1pm,  5.45pm
Wednesday : 5.45pm,   8.15pm
Thursday : 5.45pm,  6.45pm
Each class is 60 minutes.
…………………………………………………………………………..
£9 online/ £10 drop in
£64 8 week session
or £10 Pay at the Door
or book 8 week session. Phone Jennifer 07966912953 to book your place.
#Christmas Opening hours
Closed – Mon 24 Dec – Sat 29 Dec
Open – Sunday 30 Dec 2018
Closed  – Mon 31 Dec – Sat 05 Jan 2019
Open – Sunday 06 January 2019
ALL classes resume from Monday 07 January 2019
…………………………………………………………………………..
*not suitable during pregnancy
…………………………………………………………………………..
If you are reasonably fit and healthy then this is the right Beginners class for you.
60 minutes of Yoga which will provide a great foundation for your Yoga practice.
You will learn Yoga Postures (Asanas), Breathing techniques (Pranayama) and Relaxation (Yoga Nidra). But don't worry; you don't need to know what these terms mean to do this class. Anyone can learn Yoga and this class is a great way to start.
Be prepared, Yoga is a work out and you'll probably sweat, even in this Beginners Yoga class.
Keshav Rupakheti,  Jill Hogan  and Sammia McCamphill teach the Beginners Yoga Classes.
For a more basic and easier level then try out our Absolute Beginners Yoga class.
If you are unsure which class is for you, feel free to chat to Keshav or Jennifer, they will find the right class for you.
New to yoga? Here is info on What to Wear to Yoga.
Book Online
Book a yoga class through our schedule and online booking system.
Book your place
26 January 2019 – 45 mins Express Yoga Class – with Keshav Rupakheti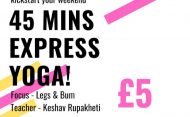 Time: 10.30am - 11.15am
Price: £5
A fast and Affordable class to kickstart your weekend!
Hear about our New classes and Events. Sign up for our Newsletter