Pregnancy and Birth Support

Way2Go Birthing
"Best for your Baby and your Body"
Feel supported from pre-conception to the birth of your child with Way2GoBirthing.
This modern, empowering bespoke service has been designed to comfort and reassure you throughout every stage of your pregnancy.
Both mums and dads can find pregnancies and births emotionally and physically challenging, but with Way2GoBirthing you'll feel buoyed and nurtured – even if you've experienced difficulties in the past.
Way2GoBirthing is aimed at mums and dads who are feeling vulnerable in light of what's ahead and maybe what went before. Sometimes you just need soothed with professional skill and smooth emotional blocks to joy.
Created with every lifestyle and schedule in mind, Way2GoBirthing will provide assistance via text message, telephone, Skype call or video, email, and in-person appointments.
A mum herself, Julie-Anne Mullan is a skilled and professional therapist who understands the value of empowering you step-by-step through the maze, and amazingness, of pregnancy and early parenthood.
Watch Julie-Anne talk about Way2GoBirthing…
Practitioner: Julie-Anne Mullan
When: Bespoke Service designed around you and your life
Julie-Anne Mullan E: lifeenergetics@gmail.com Tel:02843767972
Mob: 07749983602
Book Online
Book a yoga class through our schedule and online booking system.
Book your place
26 January 2019 – 45 mins Express Yoga Class – with Keshav Rupakheti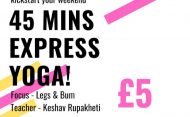 Time: 10.30am - 11.15am
Price: £5
A fast and Affordable class to kickstart your weekend!
Hear about our New classes and Events. Sign up for our Newsletter