Wellness Centre
At Namaste we are committed to finding balance in our life.
And passionate about helping you to find balance in yours.
That's not always easy, especially when life doesn't quite go to plan.
At our Wellness centre we provide classes, workshops and consultations to give a helping hand when life does go a little out of balance.
Many people find meditating regularly can really help them to find head space when life gets too hectic.
If you are one of the many people who struggle with a busy racing mind, then our Wonderful Moment Meditation class is for you. This 6 week course will teach you the basics of simple Mindfulness Meditation and help you to find space between your thoughts.
Sometimes life can throw you a curve ball and it is not always that easy to deal with. Our Mindful Self-Compassion workshops can help us to respond to these difficulties with kindness and understanding (self-compassion). Mindful Self-Compassion also means holding difficult emotions—fear, anger, sadness, shame and self-doubt—and ourselves, in loving awareness, leading to greater ease and well-being in our daily lives.
Sometimes a more focused approach is necessary. Where a personalised consultation with one of our teachers or practitioners could help to get things back on track for you.
Book Online
Book a yoga class through our schedule and online booking system.
Book your place
Halloween Yoga For Kids with Sammia McCamphill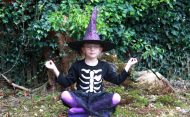 Time: 2pm - 3pm
Price: £8 each
Halloween kids yoga workshop - meet many spooky creatures and characters on a journey through a magical wood
Hear about our New classes and Events. Sign up for our Newsletter