Upside Down Memories by Oonagh

Headstand
or Sirasana
This pose takes me back to childhood where I think I spent most of it upside down.
In those days it was easy.
When Keshav started doing headstands with us I was surprised that I could still do it,  I spent weeks either at the wall or gradually moving further and further away from it. Until one night Keshav said, 'You don't need a wall', and he moved my mat into the middle of the room……!
I think its a bit like riding a bicycle you never really forget,  it's just a little harder as you get older.
The beauty of headstand is you know you have got it right when it is effortless – it is such an invigorating energizing pose, it gives me so much joy!
Oonagh Linden
Book Online
Book a yoga class through our schedule and online booking system.
Book your place
26 January 2019 – 45 mins Express Yoga Class – with Keshav Rupakheti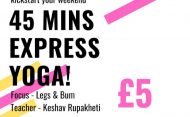 Time: 10.30am - 11.15am
Price: £5
A fast and Affordable class to kickstart your weekend!
Hear about our New classes and Events. Sign up for our Newsletter