Jill Hogan
Teaches All levels of Yoga classes at Namaste Yoga Centre
And is an Acupuncturist.
Qualified from the Yogacharya Gurukulum school of yoga in Dublin, Jill has spent the last 10 years practicing and developing within the Hatha yoga structure, working and training directly the Swami Purnananda Puri.
Jill is also a dedicated Food Coach, keen to nurture a healthy attitude to food through inspired recipes and the cultivation of mindful & informed dietary habit.
Jill is also qualified in Medical Acupuncture & Traditional Chinese Medicine at the Acupuncure College Of Ireland, Shannon, Co Clare.
Contact Jill 07825005184
Book Online
Book a yoga class through our schedule and online booking system.
Book your place
05 April 2020 – Easter Yoga For Kids with Sammia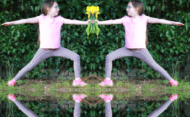 Time: 2pm - 3pm
Price: £8 each
Easter kids yoga class
Hear about our New classes and Events. Sign up for our Newsletter