17 Nov 2018 Mindfulness – Be Happy Now with Stephen Linton
Time: 10.30am - 12.30pm
Price: £15

Mindfulness – Be Happy Now
Mindfulness Meditation Workshop
Saturday 17 November 2018
10.30am – 12.30pm
£15 – please book via Eventbrite
……………………………………..
STOP! WHERE ARE YOU RIGHT NOW?
RELIVING THE PAST?
LIVING IN THE PRESENT?
OR PRE-LIVING THE FUTURE?
In this beautiful 2-hour workshop you will have opportunities to explore and experience what mindfulness is through a range of gentle, guided meditations and inspirational words – guaranteed to relax and nourish you.
Many of us spend so much of life 'lost' in thoughts about the past or predicted worries about the future. Consequently, we fail to recognise and enjoy whats real and currently happening – right here and now.
The workshop is suitable for all levels – from the beginner to the more experienced practitioner.
COST: £15
Admission is by ticket only – available to purchase online from Eventbrite via the FB link or from www.justbemindful.co.uk/calendar.
LIMITED NUMBER OF PLACES AVAILABLE SO GET YOUR TICKET ASAP TO AVOID DISAPPOINTMENT
Book Online
Book a yoga class through our schedule and online booking system.
Book your place
May 2019 – Yoga for Kids Teacher Training with Cayetana Rodenas from Yoga&Kids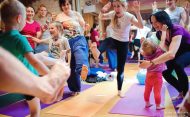 Time: Fri 1pm - Sunday 6pm
Price: £400
3 - day course, mainly practical with some theory, in which you will experience how to be a kid again and connect with your inner child
Hear about our New classes and Events. Sign up for our Newsletter