Julie-Anne Mullan MA

Julie-Anne Mullan
Julie-Anne Mullan has over 20 years experience using energy with an open heart in powerful and varied ways, as key elements in her healing and transformation work.
Julie-Anne specialises in releasing emotional blocks (past, present and future) helping you to move forward in your life. She also provides pregnancy and birthing support for mums, dads and babes via her Way2GoBirthing service.
She is accredited Advanced Practitioner and Trainer of EFT (Emotional Freedom Techniques) with AAMET, the Association for the Advancement of Meridian Energy Therapies, and is registered with GHSC (General Hypnotherapy Standards Council).
Julie-Anne Mullan, NLP Master, Hypnotherpist, EFT Adv Practitioner & Trainer, Emotion Code Practitioner, Reiki Master/Teacher
Watch Julie-Anne talk about her work on Destination Wellbeing
Tel: +44 (0)28 4376 7972
Book Online
Book a yoga class through our schedule and online booking system.
Book your place
26 January 2019 – 45 mins Express Yoga Class – with Keshav Rupakheti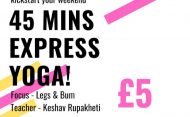 Time: 10.30am - 11.15am
Price: £5
A fast and Affordable class to kickstart your weekend!
Hear about our New classes and Events. Sign up for our Newsletter