19 Dec 2019 – Christmas Charity Mindfulness Meditation class
Time: 8.15pm-9.15pm
Price: Donation
with Bridgeen Rea-Kaya from Immesurableminds
Thursday 19 December 2019
8.15pm – 9.15pm
Donation
Please book via immeasurable minds.co.uk
………………………………………..
Now a yearly tradition my last evening mindfulness class of the year before Christmas is for charity.
This is a FREE class but I will be asking for donations. This year the Charity is 'Headway' – the brain injury association. All proceeds will go directly to Headway services in Northern Ireland – helping adults living with brain injury and their carers.
Brain injury can challenge every aspect of your life – walking, talking, thinking and feeling – and the losses can be severe and permanent. It can mean losing both the life you once lived and the person you once were.
We all think 'it will never happen to me', but every year around 350,000 people are admitted to hospital with an acquired brain injury.
That's one every 90 seconds.
A brain injury can happen to anyone, at any time. When it does, they're here to help.
As a mindfulness and meditation teacher who has studied neuroscience works with power of the mind I think this is a very appropriate cause.
Last year in the Charity Meditation class we raised £236 for Action Cancer, in 2017 £294 for Hospice UK and in 2016 we raised £240 for Syria Relief – let's make it a record total this year!
The class will be a 'Christmas special' with some mindful chocolate eating!
OPTIONAL INVITE – we will be going for a 'chinese' at 6.30pm in Macau (downstairs from Namaste) before the meditation, your invited to join if you like. You must register with me by 12 December to let me know if your coming for food as I need to book a table – thank you.
Christmas jumpers are welcomed to add to the spirit . Get your wear out of them!
As ever this event is supported by Namaste Yoga Centre and everyone is welcome, please mark it in your diary.
You do not have to donate through this website you can donate directly with cash on the night.
Suggested donation is £10. Thank you.
Book Online
Book a yoga class through our schedule and online booking system.
Book your place
Sept 2022 – Yoga for Kids Teacher Training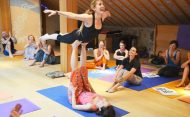 Time: Fri 1-5pm, Sat 9am-6pm, Sun 9am-4pm
Price: £430 Early Rate
In person Yoga for Kids Teacher Training
Hear about our New classes and Events. Sign up for our Newsletter