Essential Oils Workshop with Karen Houston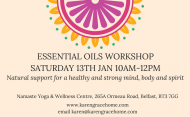 Time: 10am - 12noon
Price: £10
Learn how to bring stronger physical and emotional wellbeing to your life and also support your yoga practice.
Hear about our New classes and Events. Sign up for our Newsletter
Moon Mother Level 1 Certificated Training
Time: 09.30 - 17.30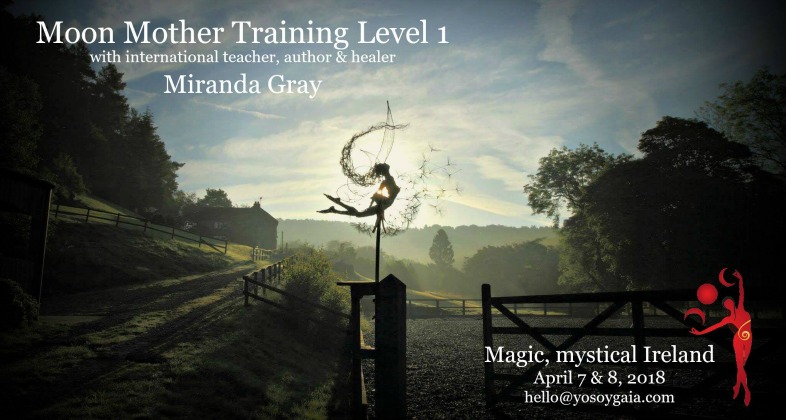 Moon Mother Level 1 Certificated Practitioner Training
with International Teacher, Author and Healer Miranda Gray
Saturday 07 April and Sunday 08 April 2018
9.30am – 5.30pm
at Namaste Yoga Centre
265a Ormeau Rd
Belfast
BT73GG
………………………………………………….
Are you ready to Awaken the Divine Feminine Energy Within you?
Join us in the next Female Energy Awakening Training & Workshops With international Author and Healer Miranda Gray in magic, mystical Ireland.
The Moon Mother Level 1 Certificated Practitioner Training will take place in Ireland and is recommended to ALL women interested in:
*connecting deeper with their own self
*begin a path of healing and transformation
*reconnecting to the Divine Feminine Energy
*Interested supporting other women
*Awakening to your beautiful femininity – strong, creative, sexual, spiritual and empowered!

If you feel the calling to become a Moon Mother is because you are ready. The 'Moon Mother initiation' will connect you the Womb Blessing Frequency helping you to awaken to your authentic and powerful femininity and to cleanse and heal your life, and makes you a channel for these vibrations for other women in person and globally.
There is a great need for more Moon Mothers to help women to restore their connection to the Divine Feminine, thereby healing and nurturing them.
To be a Moon Mother is to walk a path of personal awakening and a path of helping all women around the world to also awaken to their full and authentic femininity.
Facilitated by Mayella Almazan
hello@yosoygaia.com
Find all the details on her webpage
http://yosoygaia.com/moon-mother-training-ireland-2018/
#wombblessing #womb #wombhealing #femalenenergyawakening#femaleenergybalancing #Ireland #NIreland #MoonMother #training #womb #certificated #attunement