Essential Oils Workshop with Karen Houston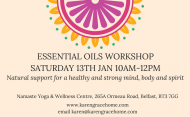 Time: 10am - 12noon
Price: £10
Learn how to bring stronger physical and emotional wellbeing to your life and also support your yoga practice.
Hear about our New classes and Events. Sign up for our Newsletter
Matilda Family Yoga Class with Aisling Graham
Time: 2.30 - 3.30pm
Price: 1 adult + 1 kid = £13 + £5 additional children
Matilda Family Yoga Class
with Aisling Graham (Special Yoga Therapist)
Saturday 10 June 2:30 – 3.30pm
Family Tickets 2 adults + 2 kids = £23
1 adult + 1 kid = £13 + £5 additional children
Contact Aisling  07753323534 to book your place as spaces are limited
………………………………………………….
In this Family Yoga Class Aisling will take the children on the exciting and empowering story of Matilda Wormwood who is an extra-ordinary little girl with very stupid parents and a bullying head mistress. Matilda knows that being young and very small the only real power she has over anyone in her family is her brain power!!
Using yoga we will retell this Roald Dahl story, where we will play tricks on unsuspecting parents, visit Crunchem hall, get locked up in the chokee and meet the terrifying Ms Trunchbull.
We will also learn calming techniques for both the body and mind.
Booking is essential
Please call/text Aisling on 07753323534
Aisling's Yoga qualifications:
Special Yoga and Mindfulness for Autism and ADHD February 2016 from Special Yoga Foundation in London with Jo Manuel, Enchanted Wonders – Yoga for Primary School Children – Enhancing Child's Expression June 2015 at Special Yoga Foundation in London with Ayala Homassany,
200hr Santosha Teacher Training Diploma from Santosha Yoga Training November 2015
Rainbow Kids Yoga for Kids and Families Teacher Training 2014.
I am also insured and registered with the UK Yoga Alliance.
I also have a BA Hons in Business from University of Ulster 2005, Diploma in (Breastfeeding) Client Centred Therapy National Childbirth Trust – 2012  .