Essential Oils Workshop with Karen Houston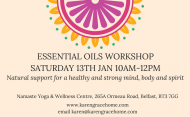 Time: 10am - 12noon
Price: £10
Learn how to bring stronger physical and emotional wellbeing to your life and also support your yoga practice.
Hear about our New classes and Events. Sign up for our Newsletter
Individual Family Yoga Sessions
Time: all day
Price: 6 week course £240 (sessions 1 hr)
Through yoga therapy we use;
Breath: to enhance self-regulation, modulation and organization, as well as supporting respiration for language
Movement: to improve motor planning, balance, coordination, strength and flexibility
Meditation and Relaxation: to decrease stress and promote stillness of the mind for increased attention and ability to focus
Working together  in individual sessions using yoga therapy, creativity and intuition we can reach the hearts and minds of differently-abled children to help calm the symptoms of their condition and to learn what they have to teach us.
6 week course £240 (sessions 1 hr)